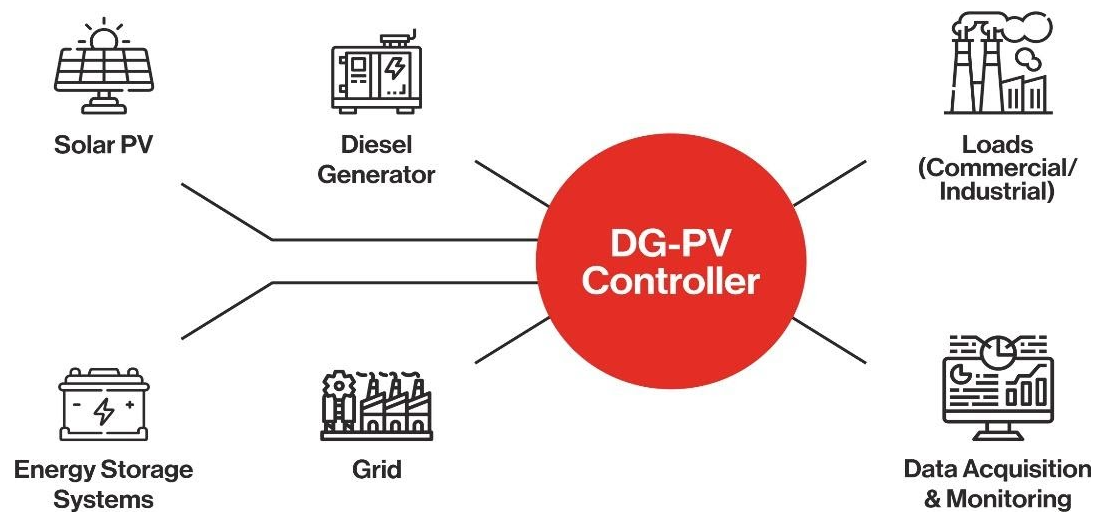 A DG-PV Controller
Frequent power cuts are a grim reality faced by all industries and commercial establishments across the country. It forces businesses to rely on Diesel Gensets, thereby increasing costs as well as the carbon footprint of the organisation.
The effectiveness of generating clean and cheap power by installing GRID connected rooftop solar power plant gets marred by frequent power cuts as solar power plants use grid power for reference voltage and frequency. In the absence of grid power, the system is unable to function, causing dual loss to the owner. The owner not only loses the electricity that could have been generated by rooftop solar power plant but is also compelled to switch over to the costly DG set for full power back up.
DG-PV System controller is a unique solution that resolves this problem by interfacing with the grid and DG set simultaneously to provide a complete grid management solution. This controller makes it possible to use solar power even when grid power is not available, by using a diesel generator. It ensures maximum utilisation of solar power and minimum fuel consumption by DG set.
Smart communication between the photovoltaic system and DG set assures greater uptime of the system and up to 25-30% fuel saving with maximum grid stability.
A solar DG-PV controller automatically synchronises solar PV with DG set. All information related to grid properties, load requirement and minimum genset loading is considered while configuring the fuel saving controller, which defines the optimum PV power set point for secure and reliable operation at all times.
The fuel save controller enables the hybrid controller system to meet any dynamic load requirement. If required, the PV power can be throttled down to guarantee smooth genset operation for optimum grid stability.
Some of the other benefits of DG-PV controller are protection against reverse power current and dynamic monitoring of system parameters on the SCADA /monitoring software. Also, it will ensure zero power flow from PV to grid in case the load demand comes down, thereby maintaining system stability when running PV plant with DG generator in the absence of the grid.
The hybrid control system is highly scalable and can be adapted to the specific requirement of the application, for example – communication with inverter over ethernet or serial (RS485/232), universal analog inputs/output module, thermocouple and RTD. The controller also ensures compatibility with all makes of solar inverters and diesel generators.
Thermax has set up DG PV controller for multiple customers over the years. Our experts can guide you to select a configuration that works best for your plant. As the world moves towards improving energy efficiency and conserving resources, DG PV controller can help in taking another step towards sustainability and reduce your cost of operation in the process.